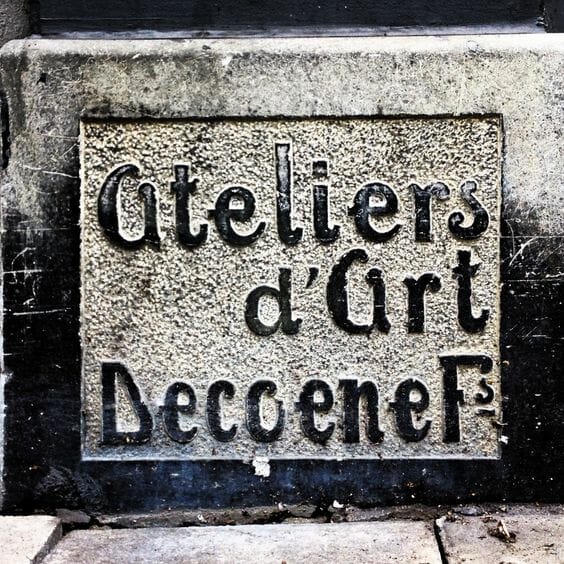 De Coene brothers from Courtrai, Belgium: their significance in 20th century Flemish and European arts and crafts
Joseph François De Coene (1875-1950) was an entrepreneur from Courtrai who made a considerable contribution to the Flemish arts an crafts. He was the oldest son of the upholsterer Adolphe De Coene and Coralie Tavernier, a painter from Ghent, Coralie. In 1905 his brother Adolf and his brothers in law Arthur Deleu and Marcel Brunein joined the business, which they called 'De Coene Frères'.
The destruction of WO I resulted in a serious pent-up demand for joinery and carpentry. De Coene Frères quickly capitalized on this opportunity. Although the quick success, ambitions of Joseph De Coene reached higher. In 1921 he went with De win to the United States on a study tour. Back home he developed a serial production of furniture in laminated wood and participated in international exhibitions: Milan, Paris, Roubaix, Brussels. The innovative furniture from their workshops received several prizes and medals! After some years the company rebranded itself to ' Kortrijkse Kunstwerkstede Gebroeders De Coene'. Just before WO II they employed almost 3.000 men and the 'Kunstwerkstede' was at the top of European wooden furniture production.
The exuberant De Coene was an excellent networker. From 1922 to 1940 he opened up the doors of his house for their weekly 'Monday Tables'. Among the regular guests were not only regional friends like Stijn Streuvels, Willem Putman or Albert Saverys, but also Herman Teirlinck, August Vermeylen, Jef van Hoof and Henry van de Velde. The last one was sort like a spiritual father for the 'Kunstwerkstede' and he could regularly be found in their factory. At this place De Coene also received international designers: Marcel Breuer, Harry Bertoia, Mies van der Rohe, or Eero Saarinen.