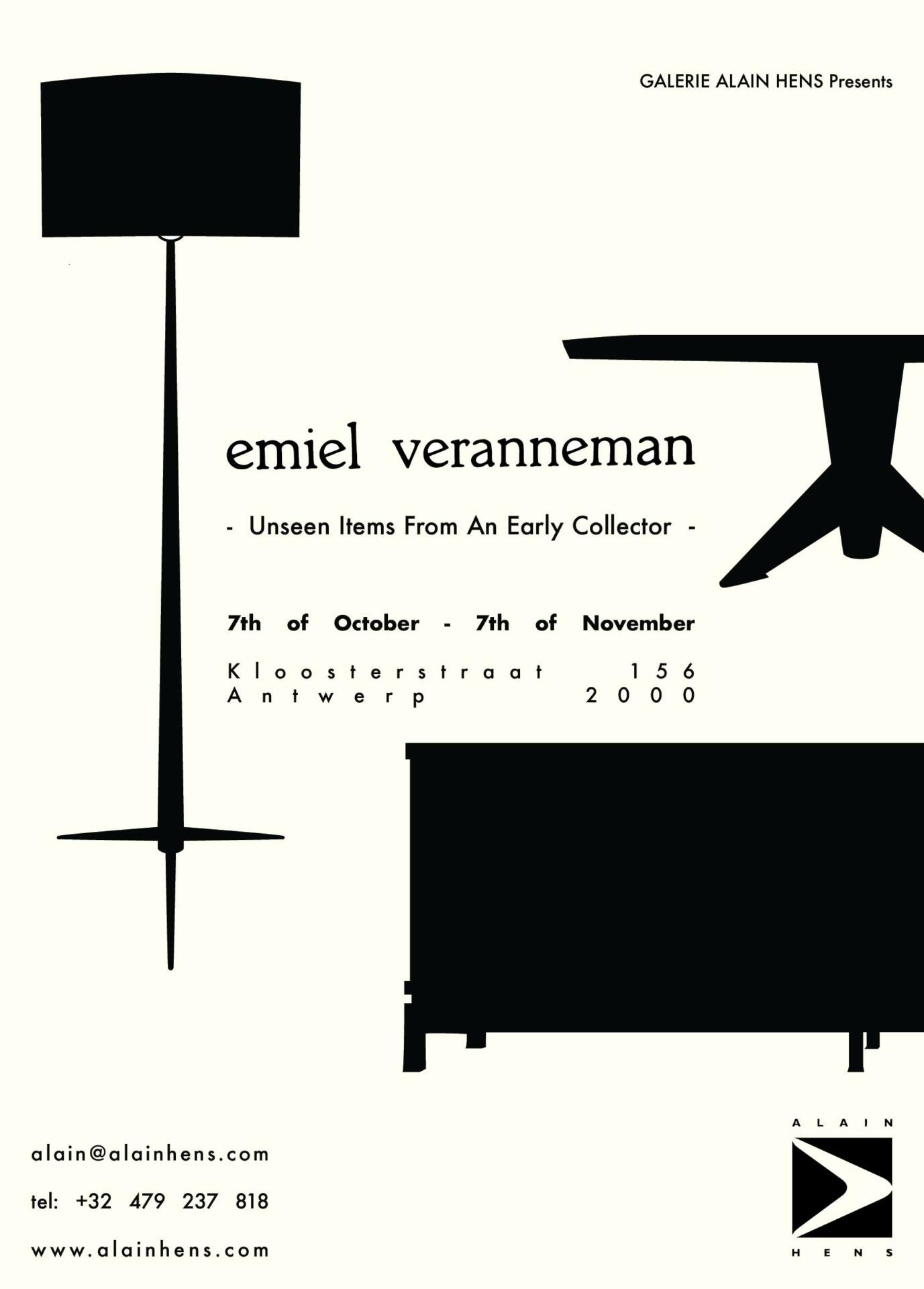 Exhibition Emiel veranneman (1924-2004) 'Unseen items from an early collection'
Galerie Alain Hens presents:
Emiel Veranneman: 'Unseen Items from an early collection'
ENG:
Emiel Veranneman (1924-2004) was a Belgian interior artist. His family was very supportive of his creative aspirations. His uncle, Constant Permeke, encouraged him to continue his studies with Henry van de Velde at La Cambre in Brussels after studying at the Sint-Lucas Institute. Like Horta, Van de Velde was primarily an architect who also designed custom furniture for his homes. Not like Veranneman, who, as an artist, explicitly focused on the art of furniture. In Flanders, the creation of furniture, as the main task, is a scarce commodity. Currently, Veranneman, Jules Wabbes & Pieter De Bruyne are clocking up high points.
The industrial design Veranneman opted for creates an atmosphere of calm. Veranneman brings, as it were, an ode to the joy of being at home. He can accentuate the state of mind of feeling at home through his round and oval-shaped chair backs, color stains on a cabinet or a low table, and sculptural drawings, which he uses as the basis for a chair. Each one of these creations carries Veranneman's Flemish character.
'Veranneman's furniture stands firm on its legs, and they seem to have grown out of the same primal landscape that Permeke glorified.' 'Their concentrated forms are archetypal for this country. They belong here. They can withstand a vernacular blow. So good that they can be used successively by generations. This concept of durability ties in with the historic furniture that adorned the homes of the Flemish patricians for centuries.
Veranneman plays a prominent role in Galerie Alain Hens. During the exhibition 'Emiel Veranneman – Unseen Items from An Early Collection – which runs from 7 October to 7 November 2021, a few top pieces from the 50s and 60s were part of a collection of an early collector from Veranneman's entourage will be shown. Lieven Daenens, former director of the Design Museum Ghent, will introduce the opening night to pay tribute to Veranneman and once again provide a stage that such impeccable, balanced design deserves.
///
NED:
Emiel Veranneman (1924-2004) was een Belgische interieurkunstenaar. Zijn familie steunde zijn creatieve aspiraties enorm. Zijn oom, Constant Permeke, moedigde hem aan na zijn opleiding aan het Sint-Lucasinstituut zijn studies te vervolgen bij Henry van de Velde aan het Brusselse La Cambre. Van de Velde was zoals Horta in eerste instantie architect die voor zijn woningen ook aangepaste meubels ontwierp. Niet zoals Veranneman die als kunstenaar zich specifiek op de meubelkunst richtte. In Vlaanderen is het creëren van meubels, als hoofdtaak, een schaars gegeven. Momenteel scheren Veranneman, Jules Wabbes & Pieter De Bruyne hoge toppen.
De industriële vormgeving waar Veranneman voor opteerde schept een sfeer van rust. Hij brengt als het ware een ode aan de vreugde van het thuis-zijn, De gemoedstoestand van het thuis-voelen weet hij te accenturen door zijn rond- en ovaalvormige stoelruggen, kleurvlekken op een kast of een lage tafel en sculpturale tekeningen die hij hanteert als basis voor een zetel. Stuk voor stuk creaties die Verannemans Vlaamse karakter in zich dragen.
'De meubelen van Veranneman staan letterlijk stevig op hun poten en ze schijnen gegroeid uit hetzelfde oer-landschap dat Permeke verheerlijkte.' Hun robuuste vormen zijn archetypisch voor dit land. Ze horen hier thuis. Ze kunnen tegen een volkse slag of stoot. Dusdanig goed dat ze door generaties achtereenvolgens gebruikt kunnen worden. Dit concept van duurzaamheid sluit aan bij de historische meubelen die eeuwenlang de woningen van de Vlaamse patriciërs sierden.
Binnen Galerie Alain Hens speelt Veranneman een prominente rol. Tijdens de expo 'Emiel Veranneman – Unseen Items From An Early Collection – die van 7 oktober tot en met 7 november 2021 loopt zullen enkele topstukken uit de jaren 50, 60 getoond worden die onderdeel uitmaakten van een collectie van een vroeg verzamelaar uit Verannemans entourage. Lieven Daenens, voormalig directeur van het Design Museum Gent, zal de openingsavond inleiden om Veranneman te huldigen en nogmaals een podium te bieden dat zulk onberispelijk, evenwichtig design verdient.